By Ben Efe
NIGERIA Taekwondo Federation presidential aspirant, Margaret Achibi said she has been aspirated by the long drawn politicking for who makes the board of the various sporting federations.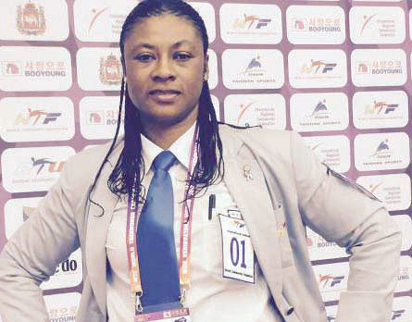 Achibi who represented Nigeria in various international tournaments, was elected president of the NTF in the June 13 sports federation elections, but her plans for the sport were temporary put on hold, after the sports ministry ordered a rerun of the polls. It was not clear the nature of the petition, which led to the cancellation that election.
"We have been on this since the conclusion of the Rio 2016 Olympics. Time is not on our side with regards to preparations for the next Olympics in 2020.
"Rather than waste time politicking we must get the federation board going and get down to work," said Achibi.
She expressed confidence that the rescheduled election on July 20, will still go her way having received the backing of most taekwondo practitioners in Nigeria.
"What we are looking for is good leadership. And 90 percent of taekwondo practitioners are supportive of my agenda for the sport in Nigeria. With coaches and administrators doing their bit in their own locality, our sport will return to what it used to be. Our priority is not just to present athletes at the Tokyo 2020 Olympics. We want to participate and win a medal. Nigeria has got a good history at the Olympics since 1992 and we must continue in that tradition.
"So if we must achieve this we must get the right people on board. And I believe we have passionate people around who can get the job done. As a former athlete, I know what it takes to get an athlete to international standard and we are going to do everything in our little way to make them excel.
"Even if we are not going for international events, there will be adequate local competitions to keep the athletes abreast with what is going on, so that when we go out we won't be looking completely out of depth."
The post Politics is killing Nigeria's sports, Achibi cries out appeared first on Vanguard News.