By Jimitota Onoyume
The Peoples Democratic Party, PDP, in Rivers State has  called on Nigerians to ignore allegations by a Rivers" activist" Livingstone Nwechie  on a national television yesterday, saying he  lacked integrity.
Spokesman of the party in Rivers State, Mr Sam Nwonosike recalled that it was the same Wechie that appeared before the Senate, insisting that  his allegations against  the Minister of Transportation and former governor of Rivers State,  Mr Chibuike Amaechi were allegedly facts.
He said that the said man had alleged on several occasions that he was not sponsored to make  the allegations against the former governor, stressing that the sudden  u-turn by Nwechie clearly showed that he was a hungry man.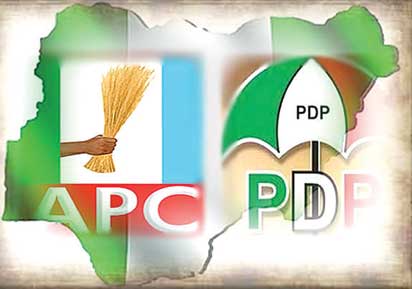 Meantime, the All Progressive Congress, APC, has celebrated the new turn of events from Livingstone, saying it confirmed the words of wisdom that every lie has an expiry date.
Publicity secretary of the party, Mr Chris Finebone, said that the new development had exposed the lies against the former governor by the Wike's government.
Meanwhile, Nwonosike continuing said:  "I want to state clearly that from what we have seen today, men who lack integrity and character ought not to be taken seriously. This same Livingstone swore to an oath in 2015 before the Senate that he was not sponsored by anybody. That anything he had said was based on his investigation.
"What happened today showed that when a man is hungry, he can eat from the gutters."
One of the issues he raised was the Karibe Whyte Hospital. Is it that there was no Clinotec that came in the name of building 1,000 bed  hospital or that nothing was built. The question we are asking is that did Clinotech not rip-off the state in the contract?" he queried.
But Finebone of APC, said "It is always our position in Rivers APC that every lie has an expiry date. Today, all the lies and falsehood perpetrated against Amaechi by Nyesom Wike and the PDP expired with ignominy. No better vessel would have conveyed the message of shame than Livingstone Wechie himself having been the arrowhead of Wike and PDP on their self-appointed mission to destroy the impeccable image of Amaechi.
"But to God be all the glory and adoration that the chicken came home to roost much earlier than later. What unveiled today can only be an act of God. It should serve as a great lesson to those who preoccupy themselves with plotting evil against someone like Amaechi who is God's favourite son."
The post PDP, APC bicker over allegations by Rivers 'activist' appeared first on Vanguard News.