There was pandemonium in Abuja as Police, again clashed with over a hundred members of the Islamic Movement in Nigeria, also known as the Shia group, during the group's protest on Monday.
The group which marched to the National Assembly's main gate on Monday and attempted to forcefully enter the compound, were however dispersed by the police who fired teargas at them.
Members of the group, however, ran to neighboring federal secretariat as they gasped for air.
However, there was pandemonium at the national mosque, Abuja when some of the members ran towards it, seriously being chased by a combined team of the Civil Defence, and the police.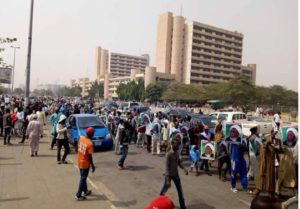 Upon seeing the chase, those around the mosque equally took to their heels, creating a panic situation.
The Shiites have been protesting for the release of their leader, Ibraheem El-Zakzaky, who has been in detention since 2015.
However, in a statement signed by one of the protesting group's leaders, S.I Ahmad, the group said they are protesting for the release of their leader to enable him seek medical attention.
They said they had information that their leader's health is in bad condition.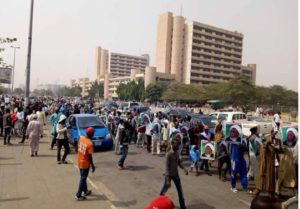 According to the statement, "It has been confirmed that the health of the leader of the Islamic movement in Nigeria, Shaikh Ibraheem Zakzaky  is seriously deteriorating.
We can recall that the humble Shaikh was attacked by the Nigerian Army on the 12th of December , 2015 in which  over one thousand people were massacred including three of his sons.
Since then , Shaikh Zakzaky was kept under illegal and unconstitutional detention by the Nigerian government despite the ruling of the Federal High Court that he should be freed and compensated.
What is obvious is that his health condition in general and his sight in particular, are rapidly deteriorating and it has become increasingly clear that the Nigerian authorities are not bothered about the survival or health of  Shaikh Ibraheem Zakzaky."
The group also said that "Based on that , Muslims and other concerned Nigerians came out to protest in many towns and cities across the northern states of Nigeria.
We are deeply concerned about the health of our incarcerated leader and we believe that it is necessary on the Nigerian State and those holding him to release him unconditionally to enable him attend to his heath properly."
The post Pandemonium as Police fire tear-gas to disperse Shiite protesters in Abuja appeared first on Vanguard News.