By Chioma Onuegbu
UYO—FORMER Minister  of State (Education), Olorogun Kenneth Gbagi, has said that International Oil Companies, IOC's  refusal to obey the Federal Government' s directive to relocate their headquarters to their operational bases in the Niger Delta region will comply by force when the time comes.
Olorogun Gbagi, represented by Orok Duke, made the observation in his opening remarks at the maiden regional ethnic youth conference, organized by Niger Delta Youth Council of Nigeria, NDYCN,  in partnership with Niger Delta ethnic nationalities at Uyo, Akwa Ibom State.
The business mogul and criminologist, who was chairman of the occasion, said: "If they do not want to move quietly, we will move them by force. And we are saying that every state in Nigeria should be allowed to fend for themselves with the resources they have been blessed with.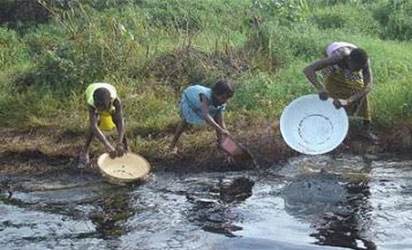 "Niger Delta region has not benefited from the resources God has blessed them with since the discovery and exploration of crude oil in the 50s. When you go to Oloibiri in Bayelsa State where the first oil field was discovered in 1956, you will weep because there is nothing to show for it. But they are using the money from our land to finance other states that contribute nothing to the economy of this nation, and we are now saying no to this. That is why we say on restructuring we stand."
Implement confab report
Speaking on the conference theme, "The Niger Region and Restructuring,' member of the Pan-Niger Delta Forum, PANDEF, Professor G. G Darah,  represented by Urhobo ethnic nationality youth leader, Vincent Oyinbode, described Niger Delta as an oppressed region that has been wickedly deprived from seeing the yoke of the golden egg it lays, expressing disappointment that the immediate past president, Dr. Goodluck Jonathan,  did not proceed to implement critical policy recommendations of the 2014 National Conference.
Darah stressed: "All minorities and pro-federalism advocates in Nigeria are convinced that our country will never be free, sovereign and developed unless and until the confab recommendations are implemented. PANDEF has given the Federal Government from now to October 1 to address the vexed issues of this region, and we have liaised with leaders of the South East and South West and agreed on 'no restructuring, no Nigeria'. The unity of this country is predicated on fiscal federalism."
Why youths want restructuring
Addressing the summit, convener and president, Niger Delta Youth Council of Nigeria, Comrade Daniel Etaga, said: "In the spirit of equity and justice, we, the Niger Delta youths have decided to join our voices to the call for restructuring of Nigeria. Although I agree that Nigeria remains one indivisible country, but my candid opinion is that Nigeria needs to be restructured.  Nigeria's problem has gone beyond leadership failure hence we insist on restructuring of the country.
"We want a restructured Nigeria where each federating unit will start controlling its resources and develop at its own pace. We are calling for a restructured Nigeria where each ethnic group will have equal rights for mutual co-existence and respect for each other, hence, we condemn the display of arrogance of northern youths who issued a quit notice to Igbo living in the north and incessant killings by Fulani herdsmen in the different parts of the country," he asserted.
We won't beg for our rights   
Another youth leader and spokesman of Ijaw Youth Council, IYC, Mr. Henry Iyalla, who threw his weight behind Gbagi, said: "As youths of this region, we are not going to beg for what belongs to us. Some of you  remember that in 1975 when General Yakubu Gowon asked the international oil companies to relocate their headquarters to Lagos, they did so.
"But an executive order was given to them by Acting President Osibanjo to relocate back to their operational bases, up till today,  they do want to  obey that executive order. We, the Niger Delta youths are not happy about this. We are not begging again."
Anguish in the midst of abundance
NYCN representative, Mr. Bassey Willie said; "We, the youths of this region must open our minds and rise up with one voice to support restructuring of this country because the psychological effect of marginalization and neglect of on the people of this region that lays the golden egg for the economy of this country cannot be overemphasized.
"By now, we are not supposed to be talking about abject poverty, youth unemployment and underdevelopment in Niger Delta, but because the wealth from our region is being enjoyed by others, who do not know or understand our story, do not care about the untold hardship and health issues of those who live in the creeks where the wealth comes from, and our people still suffer," he said.
The post Osinbajo's directive: Adamant IOCs'll relocate to N'Delta by force – Kenneth Gbagi appeared first on Vanguard News.