By Chinonso Alozie, Owerri
Governor Rochas Okorocha of Imo state, Tuesday, said that the Socio-Economic Rights and Accountability Project ,SERAP, jumped into a conclusion on the call to probe his government on the erection of statues of African presidents in the state.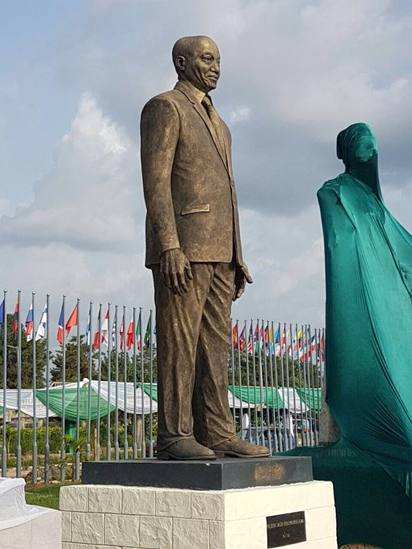 In a statement to newsmen in Owerri by Okorocha's Chief Press Secretary, Mr Sam Onwuemeodo, challenged SERAP to come up with any law stopping his activities.
According to Okorocha, "We have read in the media the report credited to a Human Right Advocacy group, Socio-Economic Rights and Accountability Project (SERAP) stating that it had submitted petitions to certain agencies demanding for the probe of Governor Rochas Okorocha over the statues of Presidents Jacob Zuma of South Africa and Mrs. Ellen Johnson Sirleaf of Liberia.
"SERAP also said that the statues might have cost N1billion. Then, how would SERAP address the issue of cost again if at the end of the probes the amount is either far higher or far below what they quoted?.
"Again, what if at the end of the probes, it is discovered that the statues were not funded from government's purse, when SERAP had already talked about apparent misuse of public resources.
"Right from the outset, we had given indications on the purpose of the coming of these great leaders and who invited them. We had that Correspondences.
"And if SERAP had meant to do a good Job, they would have resolved the issue of invitations and their contents, to ascertain whether they came on the invitation of the government or the Rochas Foundation College of Africa. The language of SERAP obviously would not have been the same if they had taken that step.
"SERAP would have also helped the public by quoting any known law or ordinance barring the governor from receiving or hosting the visiting leaders not minding who invited them or which body invited them."
The post Okorocha replies SERAP on Zuma's statue appeared first on Vanguard News.