Renowned movie producer, Zeb Ejiro, has seen it all. Before he had his breakthrough after producing the sitcom, "Ripples," which ran for five years on NTA, and other notable movies, including "Domitilla" and "Mortal Inheritance", Zeb was a proverbial 'labourer of love.' But at the end, he conquered the forces that stood between him and his sweetheart, Joy. Today, they have not only lived together as husband and wife for over three decades, their marriage is also blessed with seven children with his first daughter, Mimi, riding the crest as an actress. He shares the story of his  marriage: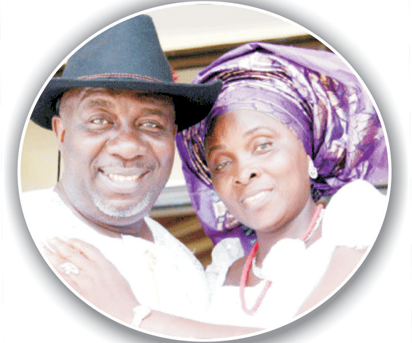 How relationship started
I met my wife when I returned to Nigeria from Equatorial Guinea where I grew up. On my return, I moved into an apartment in Ajegunle area of Lagos. The mansion of my father-in-law was beside my house. He was then Area Sales Manager, Western Region for Glass Gold Richline, a pharmaceutical company. I saw this lady and I got carried away by her beauty and later became her secret admirer. One thing led to another and we fell in love. Initially, the parents did not endorse the relationship. I was just a young man, who was struggling to survive even though I was working then. And she came from a very rich home.
So, there was no similarity in our status. I wouldn't forget the day my father in-law detained me at Ajeromi Police Station over my wife. He told me to leave his daughter alone. But my wife stood by me, and threatened that if her father didn't release me, she would stay in detention with me. When the father found he could not end our relationship, and being a civilized man, he allowed us to be. He told my wife that if that was what she wanted, he would support her.
Acceptance
He left us alone, and that is how I was accepted in the family. Not long thereafter, I went into movie production and the name, Zeb Ejiro, became a household name across the country. Her parents not only became proud of me, they also encouraged me. The truth of the matter is that part of the money I used in shooting the pilot episode of "Ripples" was given to me by my wife's elder brother, Charles Otugbo. I won't forget that kind gesture. My wife was working at the Presidency, located in Obalende, Lagos, at the time I was concluding plans to shoot "Ripples". I didn't have money. I was just a struggling script writer after I trained at BBC and NTA, among others.
I was writing for different television series such as "Second Chance", "Village Headmaster", "Tales by Moonlight" among other TV dramas. I even worked with Daladi Bako on his TV programme, an action drama called 'Sparks." At a point, I said to myself, 'I needed to shoot my own TV series'. I had no money, so my brother- in-law came to my rescue and I shot "Ripples", which became the longest running soap opera in Nigeria. It ran for five years uninterruptedly on NTA. Later, we got married and had our first son, Melody.
Marriage at 20
When I met my wife, I was 20 years old. And when we started dating, I was 22. I married her when I was 28.
Marrying early
Why waiting when you have met the woman you want to spend the rest of your life with? I didn't want distractions. At this point, my name was everywhere and, to compound issues, I was meeting beautiful women on a daily basis by the virtue of my position at that point in time as the producer of one of the most popular TV series in the country. I told myself that if I allowed the distractions to go on, anything could happen. So I decided to get hooked immediately. My wife loved me and was ready to settle down. That is why I decided to marry early. My marriage is about 30 years old.
Proposing 
When I met my wife, I saw somebody that was not materialistic. She was more of a woman that said 'this is who I want.' It did not matter to her whether you were rich or not. We have had our ups and downs in marriage. I must acknowledge her courage when she stood by me when her parents initially were against our relationship. She also stood by me when her parents finally gave their approval. She equally stood by me when I was nobody. So, when I look back on my life, and remember the sacrifices she has made because of me, no matter the challenges we have had in our marriage, there is this urge to stick together. So, when I proposed to her, even though everybody was expecting it, she was excited. She screamed, 'Oh my God.'
'She's still the woman I married 30 years ago'
Yes, she remains the woman after my heart till tomorrow. She can't change now. Like I said earlier, we have had our ups and downs. And we have been able to manage them perfectly well. That's why you can't read any negative thing about me in the dailies. No matter how popular people think I am, you can't read anything negative about my marriage on the pages of newspapers. This is because we try as much as possible to manage whatever challenges we may have in-house. Marriages all over the world have their different challenges. I am not saying my marriage is 100% perfect and my wife will not say so. I have my fault and she has hers. What keeps marriage going is the ability of the parties to understand the weaknesses of each other and learn to tolerate and live with them.
Fear of parents' rejection
The fear of her parents is the fear other parents would exhibit when a young man is dating or wants to ask for their daughter's hand in marriage. At my level in the society, if any young man is coming to ask for my daughter's hand in marriage, there are certain questions I would ask him and, if I'm not satisfied with the answers, I will protest. But at the end of the day, my daughter has the final say. That was what her parents did. I was living in a small room, and they were living in a mansion. It did not add up at that point in time. But there was nothing her parents could do to separate us. At the end, they embraced the relationship and accepted me in their family. Before this time, I had not made it in the movie industry. My wife didn't marry me because I was the popular Zeb Ejiro. She accepted me when I was nobody. That's why I was truly accepted in their family.
'Women in my life'
We all play games at one time or the other. Yes, I had another wonderful woman in my life then, but I finally settled with my wife. The woman had kids for me. She was perfect, and my wife is perfect.
Polygamy
It's a matter of choice. In my case, I don't believe in it. Some people can manage it, but I don't think I can.
Weakness in marriage
I think I have been a bad boy too many times. And my job poses a huge problem for me. It kind of exposes me to the opposite sex a lot. A lot of women can't stand that. A lot of marriages in the showbiz industry have broken up today because the couples couldn't manage it. That's a major problem for me.
'How many times I offended her?'
Several times; sometimes when I offend her, I either tell her, 'I'm sorry', or I buy her a car or send her abroad for holiday. But I have never gone out of my way to offend her.
What wife doesn't like 
One major thing is that I have terrible temper and that's what she hates. When I'm angry, my voice will go up and she doesn't like that part of my life.
Children
We have seven kids and they are all university graduates.
The post My father-in-law detained me over my wife — Zeb Ejiro appeared first on Vanguard News.