By Bashir Adefaka
Oba Idowu Adamo Babalola will never forget the Nigeria of his days where academic brilliance and hard work was not only appreciated but also duly compensated. It reminds him of his sponsorship by the University of Ibadan following his success at the prelim exam to study in the nation's premier university and also by the Federal Government to Canada for his masters.   The sciences and mathematics teacher of the old spoke to Sunday Vanguard Royalty in his Itaji – Ekiti palace.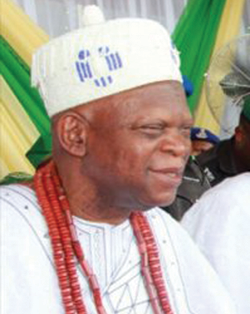 Kabiyesi had expected his guest on Friday, August 19 but road situation in Ekiti from the Osun border would require a man working on his health to take things easy. Hence the meeting did not take place until the following morning.
Protocol demands that the Onitaji would not come out of Iyewu (his palace flat) to attend to visitors until 10am. But his media visitor arrived at the palace at 6.30am and requested to see the Oba, who was once Vice President-General, Nigerian Supreme Council for Islamic Affairs (NSCIA), South West, during the era of the 19th Sultan of Sokoto and President-General of the NSCIA, Alhaji Muhammadu Maccido.
"If not because you said you are from Lagos, Kabiyesi does not come out to attend to visitors until 10am," a female palace official said.
What is more?   It was the wonderful discovery about the way the Oba handles his day from the time he rises from bed in the morning to the time he retires to bed in the night, which was a major point the reporter's deliberate breaking of protocol to arrive as early as 6.30am wanted to achieve. At the time of arrival, the king was already in the mosque, having observed Solatul-Subhi (early morning worship) and was now seated supplicating to Allah.
That became an issue of interest to the journalist who inquired to know why an Oba in a state like Ekiti dominated by Christians and pagans could be so committed to Allah being that many kings have arrogated to themselves the attribute of God.
"Who am I under the power of Allah? I am only here as Oba on trust from my Lord to be in control of the affairs of my people. I will be held accountable for how I handle the trust and that is why I have to be prayerful at all times and don't have to – for once – distance myself from the worship of Allah. So, no Oba must consider himself above the worship of Allah because, whether Muslim, Christian or pagan, he is Oba, first and foremost, because Allah made him to be and He (Allah) alone can make him a successful Oba and He alone can remove him if He so wills," the Onitaji said once he emerged from the palace mosque to receive his visitor.
Me and my kingdom
Sitting down to talk, Oba Babalola, in a relaxed mood, explained some points to his guest about himself and his kingdom.
"I was born over 70 years ago. The year of birth I had in school is 1944 meaning that I am 73 years old but I don't know precisely my date of birth."
About growing up, he said, "I was born in Itaji, had my primary education in Oye, my secondary education at Ayede Grammar School and then proceeded to University of Ibadan for my tertiary education and graduated in1970.
"Being the only one that indicated interest in teaching, after graduation in Ibadan in
June 1970, I was posted to Ansar-Ud-Deen College, Ikole, in the days of Western Region, as a teacher of sciences and mathematics. So, I never had problem seeking employment.
"There were many schools wanting to have me but Ikole became important because Ansar-Ud-Deen College Ikole had agreed to sponsor me to the university if I passed my prelim exam. But when I passed my prelim and result was out, the University of Ibadan itself gave me scholarship, so I was in Ibadan as a university scholar.
"That scholarship by the University of Ibadan therefore made it impossible for Ansar-Ud-Deen College, Ikole to be responsible for my university education sponsorship as agreed. But because they wanted me to come to them at all costs, after my university education, they then started giving me pocket money, which I was then using to train my younger siblings. The first money they gave me was 25 pounds for book allowance."
Oba Babalola continued, "I built all the sciences facilities: Chemistry, physics and biology and mathematics as teacher of same in Ansar-Ud-Deen College, Ikole, and ensured that they were all approved. I later taught mathematics at Egbe-Oba Ekiti before I left teaching three years after and moved to the Federal Ministry of Works in 1974."
His Majesty did not say how far he had gone in the Federal Civil Service before retiring but he said, "I could have become the Rector of the Federal School of Survey, Oyo. I turned it down because I was due for the obaship of Itaji.
"I was in the Federal Civil Service from 1974 until I resigned in 1984 prelude to my ascension of the throne in 1985", he stated.
"While in the Federal Ministry of Works, the Federal Government sponsored me for my master's degree in Canada.
"But let me ask: is there any Nigerian state or government establishment that still sponsors the staff to further their studies like it happened in our own time? In our time, there was government and not leadership tussle".
Festivals
On the festivals celebrated in Itaji, he said, "We have many festivals here in Itaji but I will talk about the most celebrated, the Oloa festival also known as Agunlele. It is the main festival of Itaji that sons, daughters and friends come from wide and near to celebrate"
On how Oloa is celebrated, the monarch said, "One month to the festival, some women, specially selected, will start prayers for the success of the festival. On the eve of the festival, princes will dance round the town. That is the night those princes and other members of the kingdom community would be judged by a panel of chiefs, called the Igbo, to determine who among them is good or bad; who among the princes is a womanizer or has bad character.   That arrangement by the Igbo team is Itaji customary way of getting people to be self-disciplined."
Oba Babalola said the panel is independent and has authority to carry out its duty without interference either from the king or anybody else.
"I know nothing about how the judgment of those princes is planned.   It is only the Igbo team that know.   They are the ones who would have done a thorough research to identify who is good or bad.   But they must come to me as Oba early in the morning of the festival day to give the outcome of their investigation regarding which prince has bad or good character and I, bound by the customs and tradition of the land, have no power to influence the judgment and that goes to the point when the outcome of their findings will be announced at a gathering of all the natives in morning of the festival day.
"After that day of announcement of who is bad, however, you don't hear that information anywhere again. It ends on that day. And no one ever opposes the decision of the Igbo panel because doing so has consequences.   There was a man, very close friend of mine, who opposed and wanted me to influence the decision of the panel and I could not come out because, for seven days before the festival, I don't come out. For opposing that judgment, he faced consequences.   How it happens, I don't know. Note that for the seven days that I don't come out, there are Elegbe and chiefs meetings going on in the palace.
"Part of the way the festival is celebrated is that, on the day, there is Igbo Egun (Egun Forest), which was the settlement of the Onitaji a long time ago. There is a traditional priest in charge of the rites and he goes to that Igbo Egun only with a ram in the morning while dance is going on in the palace. The ram does not come to palace but is provided by the palace for the ritual.   Then the
chiefs and people of the town, after the Igbo Egun ritual, will converge on the Onitaji palace and the Onitaji prays for them all and that marks the end of the festival.
Coping as Muslim Oba 
"The Oloa is taken care of not by me but by Oba l'Egun on behalf of the Onitaji.   I don't prevent my people from carrying out their rites according to their beliefs but they too don't tamper with my rights to my religious practice and beliefs. But I take care of all by feeding them and meeting all the expenses."
The post I forfeited being the Rector of a Federal Government institution — Oba Babalola, Onitaji of Itaji appeared first on Vanguard News.