By Charles Kumolu
A chieftain of the Peoples Democratic Party, PDP, in Ekiti State, Mr. Babatunde Oyedele has said that the state governor, Mr. Ayo Fayose was right to have nominated Prof Kolapo Isola as his successor in the forthcoming governorship election , saying that Olusola possessed impeccable record.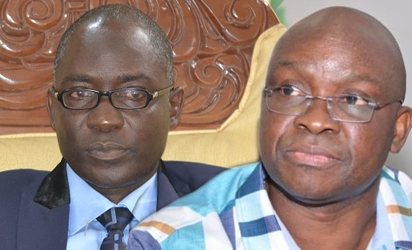 Oyedele, who said this at the end of a youth empowerment programme in the state, said Olusola would ensure good management of the state's resources.
He said: "I am aware the party is trying its best to ensure the interests of various stakeholders are protected but for the sake of our state's development, I call on well-meaning indigenes of our state to support Professor Olusola."
I also applaud the brilliant act of Governor Ayodele Fayose, who nominated a honest, diligent, visionary and intelligent man like Professor Kolapo Olusola, to be the sole candidate of the party.
"It can never be a good time to have a man like Professor Kolapo Olusola to be the next governor of Ekiti,  this time is important to us because we are in dire need of a transparent, open-minded, honest and focused man like him to manage the resources of Ekiti."
The post EKITI 2018: Fayose was right on Olusola — PDP chieftain appeared first on Vanguard News.