Following the brilliant performance of some volunteers of N-POWER, a Federal Government's sponsored Social Investment Programme, the government of Edo state has resolved to absolve those who perform creditably well into the state's civil service.
This was revealed during an interactive session between representatives of the 4,702 volunteers in Edo and the scheme's monitoring and evaluation team, led by the Senior Special Assistant to the President on Job Creation, Mr. Afolabi Imoukhuede.
Edo state Governor, Godwin Obaseki, represented by his Chief of Staff, Mr. Taiwo Akerele, revealed that the scheme was not about the stipend attached to it but the ability of the volunteers to make maximum use of the opportunity to develop new skills and improve their livelihood and their communities.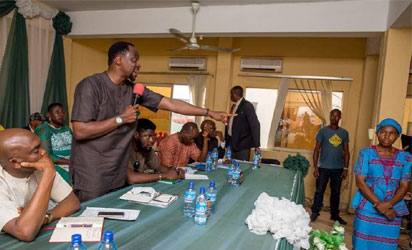 "We are going to determine those who have gone the extra mile to bring them into the civil service to fill vacancies created by retirees,'' Obaseki said.
One of the volunteers, Mrs. Angelina Asein, who spoke during the interactive session which held at Urhokpota Hall, in Benin City on Friday, was rewarded with N100,000 by the Governor for acknowledging that the programme had brought out her hidden teaching skills.
Mrs. Asein told the audience that she has now resolved to be a professional teacher.
Asein, a 2012 graduate of International Studies at the University of Benin, had appeared alongside Mr. Clement Ojuomajie, a computer scientist, to testify that the scheme had transformed their lives in just six months.
Meanwhile, the governor has said that the success of the first batch of Edo volunteers will determine the consideration for the placement of their colleagues in the next batch.
He asked them to be true ambassadors of the state and assured that the administration would offer every investment to ensure the success of the scheme in the state.
On his part, Mr. Afolabi Imoukhuede said the N-Power programme was a fulfilment of the campaign promises made by President Muhammadu Buhari and Acting President Yemi Osinbajo.
""This is a lifeline extended to you by the President,'' he said, adding that 200,000 beneficiaries were already in the graduate scheme while non-graduates would be deployed nationwide in July/August.
Imoukhuede expressed gratitude that many volunteers in Edo had fully keyed into the scheme and were receiving their N30,000 monthly stipends but expressed surprise that 257 volunteers did not have account records.
The SSA observed that many of the volunteers in the state were deployed to urban centres depriving the rural areas of the benefits and requested the state partners to repost many to the rural areas to add value to the grassroots.
Imoukhuede later held a fact finding meeting with the state partners at the Banquet Hall of the Government House where he told them to be firm with strict supervision of the volunteers.
The post Edo to absolve select N-Power volunteers into state civil service appeared first on Vanguard News.