•Says our 900sqm facility will transform broadcasting in Nigeria
As the country awaits full digitalisation, one company that has taken its time, money and intellectual resources to prepare for the expected up-surge in production activities in the television and electronic media industry is HS Media Group, an umbrella organisation of media businesses including HotSports, easily Nigeria's number 1 name is sports media marketing. The Group has put in place a five-digital television production studio at its Complex in Oregun, Lagos, with which it is poised to play big in the industry. In a rare chance interview with the Group Chairman/CEO, Taye Ige, he shares his dream with Jimoh Babatunde & Princewill Ekwujuru. The largest of the five studios is a 900-square-metre facility
Excerpts…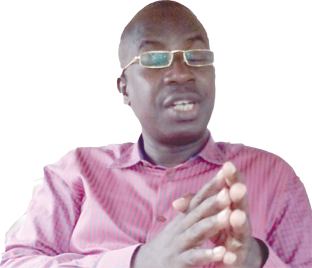 These days, major Productions, even when they are meant for the Nigerian audience, happen out of the country. Examples abound. Is it that there are no studios that can handle Projects of such magnitude in Nigeria?
Basically, the answer to your question is an obvious no. We are not there yet as a country because there is simply no studio that can handle some kinds of production like Big Brother and The Voice Nigeria, in Nigeria as we speak, hence the franchisees of these international bestsellers find it a better option to do these productions from places like South Africa, Kenya etc in spite of obvious spikes in logistics costs that this engenders. And the fact that they still manage to smile to the Banks at the end of such productions tell you how fertile the Nigerian environment is. But hope is that we should and will get there soon enough.
The rate at which investments are flowing into the industry, it is a matter of time before Nigeria begins to truly host world class productions.
As a matter of fact, the producer of BBN, South African lady came to our studios few months to the last show in company with her Partner, a Nigerian, and saw everything we had to offer and realized that it was just a matter of time for us, as a nation, to be in position to handle such a programme.
BBN, if you remember, had been hosted in Nigeria about 10 years ago around GRA, Ikeja, where a building was customised for the purpose but the truth is that at the end of that show, every single equipment used for it was written off because by the time they took the equipment back to South Africa, they were no longer useful for anything due to the effect of what was described as adverse atmospheric conditions on them. So such a very high capital intensive venture having to be written off totally nobody was going to embark on it again so soon and that was why for good 10years, BBN didn't hold, until last time around when it had to be held outside the country. And you know what that entails.
We are trying our little bit here at HS Media Group to rise to the occasion and the facilities needed are of the standard we are putting together here at our Studios complex at Oregun-Lagos.
For instance, when fully completed, you can actually build that Big Brother House in our Studio One, the biggest and largest of our facility standing at about 900sq.m. And so with the imminence of digitisation we are seriously positioning for this and other high calibre productions..
Tell us about this project; what stage are you now?
It  is a full-fledged television production complex, standing on just a little over two acres of land.
In there, you have five television production studios, the largest being 900 square-metre adjoined by two others which are 175 square metres each, and then there are two other smaller ones that we call presentation studios, and they are 50sq.m. So, whether the 900 square-metre studio qualifies as the biggest in Africa is what I do not know, but I know that I conceived the idea of an extra-large studio from a project I was involved in years ago with Guinness.
They had a national consumer promo tagged "Guinness the Match", which involved the simulation of a football pitch inside a television studio. We looked everywhere from Lagos to Ogun, even as far as Ibadan and Osun State, and we could not find a studio large enough to accommodate the needs of the NCP. We had to settle for what was the biggest then, which is the LTV 8 studio in Ikeja.
I actually wanted a 1200 or 1300 square metre size, but superior reasoning around me thought otherwise, and said that it would be difficult to maintain good occupancy all year round and that we would be lucky to even gross 20% occupancy with that kind of size or volume. We were told that we could do something smaller but still big enough to accommodate the most ambitious of productions and equipped with modern day gadgetry, create illusion of an even bigger space.
For instance, with cameras fixed with appropriate zoom lenses, you can actually create a 1,800sq.m space in a 900 square environment. But you know, money is the name of the game. For instance, some of those lenses are more expensive than the cameras themselves. So, that was why we were able to conclude at 900 sqmetre and went ahead to create two other studios of 175 sqmetre each.
How prepared is HS Media Group for digitalization in Nigeria?
The truth is that everything we have in this complex is informed by the imminence of digitalization. Full digitalisation is here already because it is already in Jos and Abuja and other places. I'm told Lagos, PH etc are on line next and, as I said, we are fully positioning to be part of it at the level of production, signals distribution, training among other business activities that will get thrown up in the industry.
So we put all of these together to await full digitalization, so that when it comes it will meet us prepared. As you know, In Nigeria, the greatest problem facing the industry is quality, appropriately sized and equipped studios and that is why we are putting all these together.
What's it about your company's partnership with Startimes
Basically I just want Nigeria to watch out for more fun and excitement from the HS Media Group and Startimes partnership. Startimes have the properties while HS Media Group has the strategy to help bring these matches to Nigeria in a more exciting manner as to invoke passion in them and at the same time as a vehicle for brands seeking to reach their millions in the marketplace.
And this is important because the premiership for instance. Every brand has a life cycle. Introductory stages, maturity and after maturity, what happens? Decline.
How much have you invested in this massive Project?
At times such as we currently are in Nigeria, it is difficult to answer your question about the worth of investment in this Project because of volatility and ample instability in pricing in the economic environment.
What value do I give you now? Is it the value of the investment when we started and the $ to Naira rate was N159 or today when it is N370± after it went as high N530?
What is your message to Nigerians on HS Media Studios?
They should watch out for us, watch out for a revolution in television in Nigeria. I have said it; it will be akin to the revolution that happened on us in 2001 when GSM came to this land. And things have never been the same again. Digitization is here and we are working day and night assiduously, and God is helping us to overcome various challenges in order to be a major player in that anticipated revolution.
As I said, in the complex, there are five different business units. One of them is a TV College. A TV College is necessary because, with digital switch over, there will be a lot of gaffes and gap in knowledge, so you need training.
We are talking to two universities, one in the US, and the other in the UK, who have very good communication schools to partner with us on this. We are also hoping to be very active in signals distribution. In this we are partnering with iSAT Africa, a company that rules the waves in East Africa as far as digitisation is concerned, where, as I said, digitization has been completed. So all of these and even more will take place in our media hub.
The post Digitisation revolution will happen soon—Taye Ige, Chairman/CEO HS Media Group appeared first on Vanguard News.