By Ayo Onikoyi
Stunning model and actress, Damilola Adegbite, married to Ghanaian actor, Chris Attoh must be having a good day on Wednesday when she posted a teaser on Instagram on home sex and hotel sex. Perhaps, she was bored and wanted a bit of excitement from her followers, not knowing some would misread her  post and come hard for her head.
The actress simply posted a teaser, asking people to share their experiences and choose which is more pleasurable and fulfilling between having sex at home and having sex in the hotel.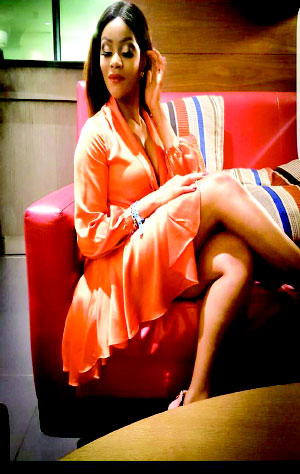 "Hotel sex is better than crib sex," she posted, adding the poser, " True or not?"
It was harmless enough kind of post and looked a nice way of spicing up your day but reactions the mother of one got certainly were what would hardly make her day complete
"All this Olosho won't let us hear word, when you marry drag your husband out of his house to the Hotel in the name of looking for best spot for Sex. I'm very sure she don't know how to keep her home clean that's why she's saying this Trash…. Rada Rada abonkwe," says @ gafbez
Another reaction wouldn't let the Tinel star off the hook easily:"she don fuck her life throwaway," fired princejohncute@bigger_son
"You see , when an actress smoke ibadan weed, it tells from what they post on social media. #lobatan," michaelbeautician commented.
Some bloggers even made a meal of the post, claiming she had authoritatively stated that having sex at hotels is better than at home, actually misleading the readers, thus, eliciting all sorts of negative reactions
But as a true lady she is, Mrs Attoh took it all in her stride and calmly explained her reason for the post with another post
" I put up random posts like this often so we all just chill and discuss sometimes. Shame that I deleted it when world people started with their wahala. For my darlings who saw it, do you remember me adding the caption "True or Nah"? @instablog9ja haff epp me to twist the post. "Authoritatively declares". Whoever wrote it, continue. Me I don't have strength to waste fighting with anybody. I will just carry your matter to baba God jeje. He will help me to slap you in your sleep well well.
The post Did Damilola Adegbite says she enjoys hotel sex more than home sex? appeared first on Vanguard News.