A Peoples Democratic Party, PDP, supporter in Adikpo, the headquarters of Kwande Local Government Area of Benue State, Mr. Terlumun Djomon has alleged that he was brutally attacked by some thugs he claimed were members of the All Progressives Congress, APC, party in the state. He also claimed that a giant billboard of the immediate past governor of the state, Gabriel Suswam was torn and pulled down by the thugs.
According to him, the attack occurred on Saturday the 17th of June, 2017 when his assailants chased him to the residence of the District Head of Usar, Chief Tivlumun Ako-Dzungwe where he was brutally assaulted with dangerous weapons, leaving him in a state of coma with serious injuries to his head and body.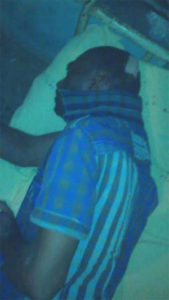 A statement by the Benue State Publicity Secretary of the PDP, Bemgba Iortyom also alleged that PDP supporters saw some mean-looking youths destroy billboards of their party mounted in the town.
According to him, the incident followed an alleged request a few days back by newly sworn-in Chairman of Kwande Local Government Area, Terdoo Kenti to the victim, Djomon, asking that PDP billboards in the town be pulled down.
He said the new chairman, Kenti, "particularly considers a giant-sized billboard of the immediate past Governor of the state, Gabriel Suswam, mounted at the entrance to the town, as an affront to the ruling APC."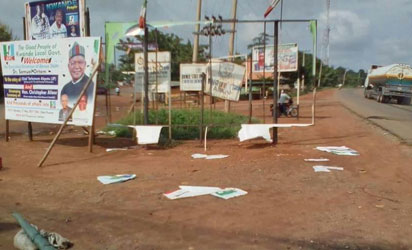 But Djomon, who is the sponsor of the billboards, said he insisted that the billboard did not violate any laws, pointing to similar ones of the APC in the town, including those of Senator Barnabas Gemade and Gov. Samuel Ortom, Iortyom said.
The victim, Djomon also claimed that his assailants may have been acting on the instructions of the Youth Leader of the APC in Kwande and one Tersoo Humbe, with one Aondosoo Iorhen Asor as their leader, with notable Kwande elders in the ruling party, some of whom he said recently decamped to the now ruling APc government in the state as a support to the stance of the new Chairman.
Djomon alleged that instead of the police to arrest the hoodlums, he (Djomon) was instead arrested where the PDP Chairmanship Candidate for Kwande in the last local government elections, Hon. Tertsua Yarkwan came for his bail after he allegedly signed a bail bond.
As at time of this report the unconscious victim was being transferred from a private hospital in Adikpo to the Benue State University Teaching Hospital, Makurdi, for intensive care treatment.
Recall that in 2003, violence and bloodshed had trailed local government elections in Kwande, with Adikpo and Jato-Aka towns suffering massive destruction of lives and properties.
The post Benue PDP alleges attack on supporter, destruction of party billboards by APC thugs appeared first on Vanguard News.