..says no other credible candidate for now
By Johnbosco Agbakwuru
ABUJA – GOVERNOR Samuel Ortom of Benue State, Tuesday, urged President Muhammadu Buhari to contest for the 2019 presidential election.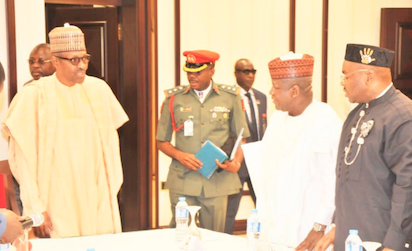 Governor Ortom who met with President Buhari behind closed-doors at the presidential villa, Abuja, said the country would benefit more if the president seized the opportunity to pilot the affairs of Nigeria for another term of four years running 2019-2023.
Speaking to State House correspondents after the meeting, governor Ortom said for now, there was no credible candidate more than the President who could take Nigeria out of its current challenges.
He said that his prayer for Buhari to contest the 2019 presidential election was predicated on the fact that the President was the only person that could take the country out of the present sociopolitical and economic quagmire.
According to him, "I came to appreciate the President him and to encourage him to be steadfast and committed to his leadership. I believe that what God brought him to achieve in this country, he will definitely achieve it. Now we see him bouncing every day to the glory of God. We appreciate this and we look forward that God will help him to take us through 2015 to 2019 and then 2019 to 2023.
"That is our prayer because for now, there is no credible candidate as far as I know that has the capacity to take Nigeria out of where we are today. I believe Mr. President has the capacity and let God sustain his health and consummate his healing so that Nigeria can be on the right path."
The post 2019: Ortom begs Buhari to contest again appeared first on Vanguard News.